Australia can boast many many famous people in all sorts of fields. From explorers, to bushrangers, to sports persons, to politicians, to musicians, to famous actors, to inventors, to artists and so much more. Virtual Australia hopes to bring you just a taste of the talent we have or had here in Australia over the past 200 years.

I hope you enjoy the information I have compiled in this section for you. Please note, there are many more to come - please don't complain if your specific person is not yet available - offer your suggestions instead :)

Listing of all Prime Ministers, most with information about each Prime Minister

Find out who was on each Ship along with some information on each person.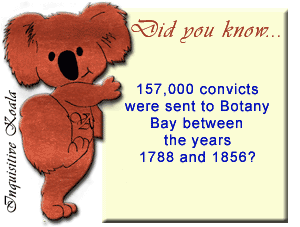 Meet some of our amazing Sports persons

Learn about some of those amazing people that discovered and explored Australia in the very beginning.

There are many other people of interest in this area. They will be split into their own sections once there is enough for each category.