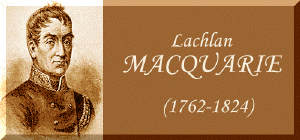 Scottish soldier and governor of the colony of New South Wales from 1810-1821, whose term of office was noted for humanitarian treatment of ex-convicts, encouragement of public works programs, inland exploration and the creation of new towns.
Lachlan Macquarie was born on the tiny island of Ulva, in the Inner Hebrides, Scotland and grew up on the nearby larger island of Mull. His army career began in 1777, with service in North America; in 1787 he began a long association with India, where he remained until 1803, apart from short spells in Sri Lanka and Egypt, and after a period in England, was back in India from 1805 to 1807. In 1807 he married for the second time, and with his wife Elizabeth ( nee Campbell 1778-1835) sailed for New South Wales in 1809 to replace deposed governor William Blight who had been removed from office by the New South Wales Corps in an uprising known as the Rum Rebellion (so-called because of Bligh's attempts to break the Corps' monopoly in the trafficking of rum). Macquarie arrived in late December 1809 and was sworn in as governor on New Year's Day, 1810.
The colony's first military governor (previous holders of the office had all been navy men), Macquarie was able to draw on his experience as a staff officer in the raising and organisation of colonial revenue-measures in this area included the introduction of coinage (1813) and the establishment of the colony's first bank (1817). Macquarie encouraged exploration to expand the pastoral land available and so improve the agricultural production and livestock numbers-the route over the Blue Mountains, discovered in 1813, gave pastoralists access to the western plains. An enduring testimony to Macquarie's governorship are the public works, carried out with the assistance of Francis Greenway (1777-1837), a former convict appointed civil architect, which transformed Sydney and Parramatta.
When he left office in 1821 Macquarie could list 265 works carried out during his term. They included new army barracks and three new barrack buildings for convicts, roads to Parramatta and across the Blue Mountains, a hospital, castle-like stables (now housing the New South Wales Conservatorium of Music) and five planned towns built out of reach of floodwaters along the Hawkesbury River. Macquarie pursued a policy of allowing deserving emancipists (ex-convicts) to enjoy the same rights as free settlers. In 1810 he made two emancipists magistrates and invited them and other emancipists to dine at government house. This and other aspects of his administration incurred the displeasure a group of military and free settlers. Complaints to England resulted in the dispatch to New South Wales in 1819 of English judge John Thomas Bigge (1780-1843) to inquire into the affairs of the colony. Bigge's report was critical of Macquarie, in particular his spending on public works. Macquarie's resignation was accepted in 1821 and he sailed for England in 1822. After settling on his estate on the island of Mull, Scotland, he set about defending himself against claims in Bigge's report that he had abused his office while in New South Wales. He died in 1824 while visiting London; his grave, on Mull, is administered by the National Trust of Australia. He is remembered in many place names, including Macquarie Street, Sydney, Lake Macquarie, New South Wales, Macquarie Harbour, Tasmania, the Antarctic dependency of Macquarie Island and Macquarie University, Sydney; named for his wife Elizabeth are Campbelltown, Elizabeth Bay and Mrs Macquarie's Chair (a headland jutting into Sydney Harbour beside Sydney Cove).
Copyright unknown