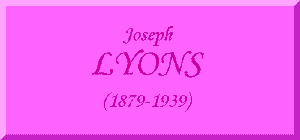 Australia's Prime Minister as the leader of the United Australia Party in the 1931 elections. Lyons promised a more cohesive government, opposed to communism and civil unrest and dedicated to sound economic management. With Australia still in the Depression, the electorate was prepared to give the new party its support. Lyons' U.A.P. formed a coalition with the Country Party to win the 1934 elections. By 1938, with war seemingly inevitable, strains developed within the U.A.P. and Lyon's own health was cause for concern. He died in April 1939, the first Australian prime minister to die in office.
Born at Stanley, in north-western Tasmania on September 15, 1879, Joseph Lyons had a hard upbringing. His father never held a job for long and was a compulsive gambler. At age 9 "Joe" Lyons went to work after school to help with family finances. Whilst studying at Hobart Teacher's Training College he devoted his energies to politics and in 1909 gained Labor Party endorsement and won a seat in the Tasmanian House of Assembly. During subsequent Labor governments he held various portfolios before he became Tasmanian Premier in 1923, a position he held until 1928.
Lyons won the federal seat of Wilmot in 1929 and was immediately appointed as Postmaster- General. The country was suffering under the worldwide Depression and the Labor Party was not united on how to deal with the worsening financial situation. When the treasurer Theodore resigned over alleged fraud charges, Scullin took over the vital Treasury portfolio. Lyons was appointed acting treasurer when Scullin departed to attend the Imperial Conference in London in late 1930.
Lyons' conservative attitude towards economic management endeared him to some sectors of the business community. Whilst Scullin was overseas Lyons refused to withhold loan repayments. This angered the Labor Caucus, but to avert a national crisis Scullin was obliged to back Lyons. Disagreement with Caucus over Scullin's decision to reinstate Theodore as treasurer caused Lyons to resign.
Lyons' opposition to the radical policies of Theodore and Jack Lang brought him to the attention of those of more conservative persuasion. With a Labor background, as a family man and as a Roman Catholic, Lyons had electoral appeal. Lyons was asked to form the new United Australia Party (U.A.P.), made up of members of the old Nationalist Party (which had collapsed after the 1929 elections) and some ex-Labor members. Their slogan was "All for Australia and the Empire."
The new party swept to victory in the 1931 elections. For its first term the U.A.P. governed in its own right, concentrating on achieving financial stability and lowering unemployment. Unemployment reached a peak in December 1932, but by the end of 1933 the worst of the Depression was over (though rural prices remained low). During its next two terms, the U.A.P. formed a coalition with the Country Party.
The Department of External Affairs was created in 1935, but in foreign policy Australia still followed Britain's lead. Lyons was a pacifist and was anxious that Britain not enter a war against Germany, even though he was appalled by the Jewish pogroms. Of more immediate concern was the deterioration of Australia's relations with Japan because of Japan's growing militancy and naval build-up in the Pacific region.
By 1938, political strife over a national insurance scheme and the lack of defence preparedness, now that war seemed inevitable, began to divide the coalition. Lyons' health was also cause for concern. He died suddenly on April 7, 1939. Earle Page acted as caretaker prime minister until a new leader of the U.A.P. was chosen.
In 1915 Lyons, a devout Catholic, had married Enid Burnell, a Methodist half his age. Theirs was a long, happy marriage, and she gave birth to 12 and raised 11 children. An excellent public speaker and broadcaster, Enid actively promoted her husband's career. Theirs was an equality of partnership, unusual for its time. In 1937 Enid was made a Dame Grand Cross of the Order of the British Empire. In 1943 she became the first woman to win a seat in the House of Representatives and in 1949 the first women cabinet minister. She resigned from Parliament in 1951 and was appointed Dame of the Order of Australia in 1980. She died in 1981.
Copyright unknown