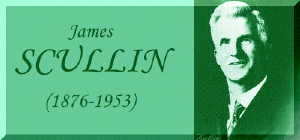 Australia's Prime Minister beginning October 1929. The world depression was deepening and the government was divided on how to deal with it. "He chose the wrong time to be prime minister" was Scullin's unofficial epitaph. The Labor Party lost the election of December 1931 and Scullin remained leader of the Party until 1935. He left Parliament in 1949.
James Henry Scullin was born on 18 September 1876 at Trawalla, near Ballarat Victoria, of Irish Catholic parents. He helped form the local Labour Party branch and stood unsuccessfully for the seat of Ballarat against Deakin in 1906. He married Sarah McNamara in 1907.
In 1910 he again stood for Federal Parliament but lost his seat in 1913. Whilst editor of the Ballarat Evening Echo he rallied round the Labor anti-conscription cause. He failed to win a seat in the Victorian Parliament in 1920, but within two years was back in federal politics. An inspired orator, Scullin was made leader of the Labor Party in 1928. He became prime minister in 1929 only days before the Wall Street crash. It was a difficult time with the depression worsening-unemployment was high and debts to Britain were scheduled for repayment. The government was divided on how to handle the financial crisis and the inherent social problems. A more cautious group advocated cutbacks in spending and honouring financial obligations. Scullin and his treasurer Theodore favoured gradual reflation of the economy and extension of existing loans. A more radical group, influenced by Jack Lang, premier of New South Wales, wanted repudiation of loan commitments. No agreement was forthcoming.
When Australia asked Britain for deferment of payment on the war debt, the Bank of England sent Sir Otto Niemeyer to assess Australia's financial situation. He advised that Australians were living beyond their means and that there must be an immediate cutback on public spending.
Scullin lost a valuable ally when Theodore resigned, facing charges of fraud whilst in the Queensland Parliament. Though later cleared of the accusations and re-instated, he was not in office when needed-Scullin himself took the Treasury portfolio but handed it to Lyons when he left Australia to attend the Imperial Conference in London in 1930.
Whilst he was away Caucus revolted against government austerity measures and Lyons refused to take responsibility for deferring loan payments. Devaluation, tariff increases and wage cuts constituted the first steps in a programme of recovery. Sir Robert Gibson, the director of the Commonwealth Bank, threatened to cut off loans unless governments reduced their spending. Theodore was reinstated but his currency bill, devised to reduce unemployment, was defeated by the Senate.
Lyons and Fenton (deputy-leader) used Theodore's reinstatement as cause to resign. In November 1931 Lang's followers alleged that the Scullin-Theodore faction was being advantaged in the payment of unemployment relief. Scullin narrowly survived a vote of no confidence but called for a double dissolution.
Labor lost the December 1931 election. Scullin remained leader of his Party until 1935 but was too ill to accept a ministry in later Labor governments. He left Parliament in 1949 and died in 1953.
Copyright unknown