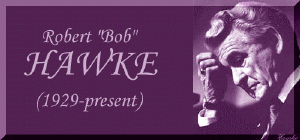 Australia's second-longest serving prime minister. He enjoyed great popularity as President of the ACTU for ten years before entering federal politics in 1980. Within three years he was prime minister and won a Labor record of four terms. His legacy includes the Accord, resulting in better industrial relations, the beginning of industry restructuring, and financial deregulation. The 1980s saw a change of direction in the government, resulting in a much more competitive, outward looking, independent Australia.
Robert James Lee Hawke was born in Bordertown, South Australia on December 9, 1929. His father was a clergyman, and the family moved around the country, finally settling in Subiaco, Western Australia, where Hawke met his wife-to-be, Hazel Masterson. At university in Perth, he began to take an interest in politics, not altogether surprisingly as his uncle had been Western Australian premier from 1953-59. Graduating with a Law degree, Hawke worked for Vacuum Oil Company before winning a prestigious Rhodes Scholarship to Oxford University. One of the terms of the scholarship was that he remain a bachelor, so he and Hazel did not marry until 1956, having been engaged for six years. They have three children.
At Oxford, Hawke wrote a thesis on Australia's Conciliation and Arbitration system. In early 1956 he returned to Australia and took up a research scholarship at the Australian National University in Canberra, but after two years he abandoned academic life and became research officer for the Australian Council of Trade Unions in Melbourne.
In 1963 Hawke unsuccessfully contested the federal seat of Corio against the popular former Olympic cycling champion Hubert Opperman. He became president of the Australian Council of Trade Unions (ACTU) in 1969, and encouraged closer co-operation between white- and blue-collar unions. Hawke's high profile in the 1972 "It's Time" campaign and his five years as national president of the Australian Labor Party made him an obvious choice for federal politics. In 1980 Hawke was elected to federal parliament as member for the seat of Wills.
The leader of the Labor opposition, Bill Hayden, appointed him shadow Minister of Industrial Relations, a natural choice with his ACTU background. In February 1983, just hours before Malcolm Fraser called for a double dissolution, Hawke replaced Hayden as leader of the Labor party. In the March 1983 elections, Labor was returned to power with one of the best majorities ever. This in large measure can be attributed to Hawke's personal popularity as a successful trade union leader and a family man. Labor faced a Senate where the balance of power was held by the Democrats.
One of Hawke's first moves was to halt the construction of the Franklin River Dam in Tasmania. He also devalued the Australian dollar to stop the outflow of capital and reduce the budget deficit. Within five weeks of his election, Hawke presided over the Summit Conference of business, unions and government representatives. This non-confrontationist approach in formulating a national economic strategy held great promise. Hawke's popularity rating soared.
The Accord, the Government agreement with the unions on prices and incomes, resulted in better industrial relations and wage restraint. Strike action was halved between 1983-86, in comparison with the previous twenty-five years, comparing favourably with the international norm. Medicare was introduced as part of the Accord agreement. Since it was first formulated, the Accord has evolved to meet changing pressures on the economy.
In December 1983, treasurer Paul Keating announced the float of the Australian dollar and the abolition of exchange controls, which was followed by deregulation of interest rates and the entry of foreign banks. Hawke and treasurer Keating recognised that the 1980s internationalisation of the world economy demanded a new outlook. Industry began a process of restructuring to eliminate inefficient work practices, and wage rises were linked to greater productivity. Job losses added to a worsening unemployment situation, which by 1990 had grown to ten per cent.
The stock market crash in October 1987, massive depreciation of the floating Australian dollar, and heavy borrowing all led to a dramatic rise in Australian foreign debt. The Hawke government sought ways of reducing the budget deficit by privatising sections of Australian industry. Qantas, Australian Airlines , Telecom and Australia Post were put on a more commercial footing.
In foreign affairs, Hawke supported the ANZUS Alliance. He tried to heal the breach between the United States and New Zealand when the latter refused American nuclear warships entry into port. Australia's overseas aid fell to its lowest level in twenty five years. In 1991, Hawke handled Australia's involvement in the Gulf War with great diplomacy.
Hawke won a record number of terms as prime minister. In December 1984 he defeated Peacock, but with a reduced majority. He subsequently won the 1987 election against severe divisions within the Liberal/National Coalition as well as the 1990 election, even though Australia was in recession.
After Bob Hawke's triumphant fourth-term victory there were rumours that he was about to retire and hand over to Keating, who had been deputy prime minister since April 1990. When he failed to do so, a leadership challenge became inevitable. On the second challenge, in December 1991, Hawke was defeated by Keating. He resigned from parliament in 1992 and has since undertaken current-affairs media work and published his memoirs.
Bob Hawke was a popular prime minister who said that he wanted to be remembered as "the larrikin trade union leader who perhaps had sufficient common sense and intelligence to tone down his larrikinism and behave in a way that a prime minister should . . . a bloke, not essentially changed by high office . . . but who in the end was principally a dinky-di Aussie."
Copyright unknown