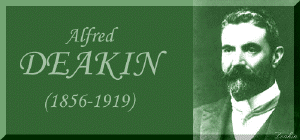 Three time Prime Minister of Australia for a period in total of almost five years. A gifted writer and orator, he entered Victorian State Parliament in 1879. He championed federation and was the Victorian delegate when the Australian Colonies Government Bill was presented to the Imperial Parliament.
A founder member of the Australian parliament he was Attorney-General and deputy prime minister in Sir Edmund Barton's ministry and became prime minister on Barton's resignation in 1903. Nicknamed 'Affable Alfred', Deakin's ideal was a just and progressive Australia with equal rights for all citizens regardless of wealth or standing. His vision saw Australia as an Anglo-Celtic nation, separate but true to the traditions of Empire.
Alfred Deakin was born on August 3, 1856 in Fitzroy. His parents had migrated from England in 1849 and joined the rush to the gold fields, but not finding their fortune settled for a modest living in Melbourne. Deakin studied law at Melbourne University. He married Elizabeth 'Pattie' Browne in 1882 against the wishes of her father. They had three children.
Whilst at university, Deakin wrote plays and discovered a great aptitude for journalism. Throughout his career in federal politics he wrote an anonymous column for the London Morning Post in which he criticised his own performance as well as that of his opponents. It was David Syme, the publisher of the Age , who persuaded him to run for the Victorian parliament in 1879 as a Protectionist candidate.
He was an effective administrator. Two particularly important pieces of legislation concerned industrial reform and the first government-sponsored irrigation scheme. When Chairman of the Royal Commission of Inquiry into Irrigation, he persuaded the Chaffey Brothers to come from the United States to oversee irrigation projects at Mildura. His Factories Act 1885 defined for the first time the working conditions and hours of employment for children. A modest man, he refused a knighthood offered to him when he attended Queen Victoria's Jubilee in London in 1887.
Losing all his savings in the land crash of 1890, Deakin resigned from his ministerial post and returned to the Bar. As a strong believer in federation, he represented Victoria at various constitutional conferences and became a great friend of Edmund Barton. He used his powers of oratory to ensure that Victorians voted 'Yes' to a new federal constitution. Not surprisingly, he was appointed Victorian representative to present the Australian Colonies Government Bill to the British Parliament. Deakin was Attorney-General in the first federal government, the youngest member of the ministry, and became Barton's closest friend and adviser. On Barton's resignation in September 1903, Deakin was chosen as prime minister at age 47.
Deakin was prime minister of Australia three times between September 1903 and April 1910-a total of almost five years. For his first two terms, he had to rely heavily on the Labour (later Labor) Party to keep his Protectionist Party in power. Deakin resigned in 1904 after disagreements with Labour over amendments to the Conciliation and Arbitration Bill.
Deakin made a new bid for power in 1905 with the support again of Labor under Watson. This Protectionist/Labor coalition lasted for three controversial years. Deakin's opposition to the Labor sponsored Excise Tariff Act 1906 was vindicated when, in the famous Sunshine Harvester decision, the High Court ruled the act invalid. However, the Sunshine Harvester case established the principle of 'the basic wage', a landmark judgment handed down by Henry Higgins, president of the court. It was during Deakin's second term in 1908 that the old-age pension of ten shillings per week was proposed for persons over 65 years who had lived in Australia for 25 years (but not Aborigines), who were of good moral character and did not own private property over 310.
In 1900 it was agreed that the new federal capital should be within New South Wales, at least 100 miles away from Sydney. However, the site of the new capital was not finally decided until 1908, when the Limestone Plains area (now Canberra) was chosen over Tumut and Dalgety. During 1908, the Labor Party, which held twice as many seats as the Protectionists, again agitated to govern in its own right. Fisher called for a vote of confidence in Deakin. Losing 42 to 13, Deakin resigned. Meanwhile, Cook had replaced Sir George Reid as leader of the Free Traders. Deakin persuaded Cook to join his Party to the Protectionists to defeat Labor. The new Fusion Party defeated the Labor Party in the House of Representatives in May 1909. Deakin was asked by the Governor-General to form a government and the Fusion Party remained in power until the general election of 1910.
The Deakin-Cook ministry turned its attention to defence matters, as Deakin was fearful of the colonial ambitions of Germany, France and Japan within the Pacific region. Britain agreed to the establishment of an Australian navy, to be under Australian command in peace time but under the Royal Navy in times of conflict. A period of compulsory military service was also proposed and Lord Kitchener asked to advise on Australia's needs.
The election of 1910 was a two party contest. In spite of Deakin's energetic campaigning Labor was swept into power. Deakin remained as leader of the opposition until 1913 when he resigned. He died in 1919. Deakin was one of the fathers of Australian federation. Many consider him Australia's greatest prime minister because he laid the foundations upon which Australian society and legislation were based until the 1980s. The Fusion Party which he initiated was the forerunner of today's Liberal Party.
Copyright unknown