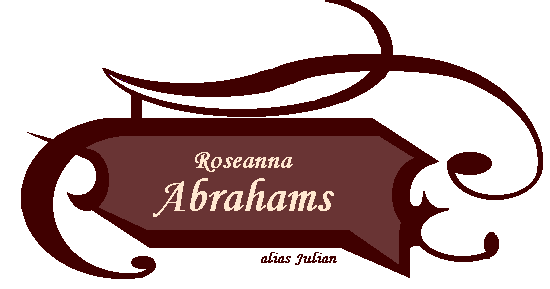 (Kim's great great great great great grandmother's illegitimate daughter)
was born in Newgate Gaol on 18 March 1787 some eight months after her mother Esther Abrahams, committed the felony for which she was transported with Roseanna to NSW. Roseanna must have been a sturdy baby for in those days of high infant mortality, Newgate Gaol provided one of the least sanitary environments for childbirth in London.
After Roseanna's arrival with her mother on board the Lady Penhryn under the protection of Lieutenant George Johnston, she was rationed from the public store as 'Esther Abrahams convict child' from February to November 1788. After that nothing is known of her existence until her marriage in 1805 to Isaac Nichols. It is clear, however, that by this time, she was fully accepted by her mothers family.
Roseanna had three sons by the widower Nichols, the emancipist licensee of The Jolly Roger, overseer of convicts under both Governor Hunter and George Johnston (her stephfather), and a landownder of considerable holdings. An entrepreneur as well, Nichols engaged in ship-building and coastal trading, and in 1809 was appointed superintendant of public works and assistant to the Naval officer. This led, in 1810, to his appointment as first postmaster.
By then, the Nichols were living in their new house in High Street, The Rocks, scene in July 1811 of the annual Bachelor's Ball. The Sydney Gazette reported that 'His Excellency the Governor was pleased to express much satisfaction at the conveniences the house afforded, and as the prioprietor had declared a willingness to devote it to the public accommodation, His Excellency was himself pleased to honour it with the appellation of the Sydney Hotel'.
In November 1814, Roseanna and her husband were witnesses at the wedding of her mother, Esther, to George Johnston. After Nichols died, five years later, Roseanna married James Stewart on 13 August 1820, with Blanche Johnston, her half-sister, as a witness. Roseanna's children of her first marriage subsequently lived for varying periods with the Johnstons at Annandale.
Roseanna died on 11 April 1837, aged 49, and was buried with Isaac Nichols in the family vault at Rookwood.
Copyright unknown

[ Virtual Australia | The World We Live In | The Things We Do ]
[ The Natural World | The People We Are | Australia Through Time ]
[ Online Australia | Fun for Kids | For Webmasters and School Projects ]
---
---
Problems/Broken Links can be reported to
virtualaustralia@yahoo.com
The owner and author of this website is not of indigenous descent - and therefore will not provide information on the indigenous viewpoint. This is best left up to the authors of Indigenous websites. I would not want to offend a wonderful culture by writing something incorrect.
All text and graphics unless otherwise stated are ©1998-2000 Kim Holden, Virtual Australia.
If you believe any of the graphics or text to be copyright to you, please email me to discuss the matter.
All rights reserved. No part of this site may be reproduced in any form without the express permission of the owner of
Virtual Australia or the copyright owners of the included information.
Any offenders will be prosecuted to the full extent of the law.