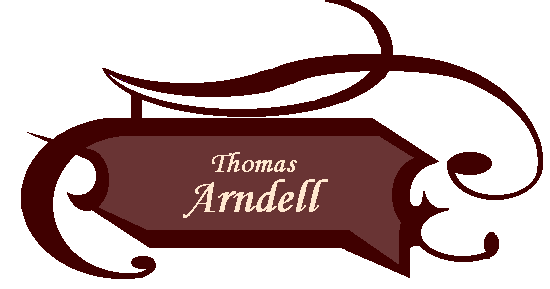 born in 1753, was the son of Ann Mitchell and Thomas Arundel, brother of the 6th Baron Arundel of Wardour, but changed his name to Arndell. Before he sailed on the Friendship as an assistant surgeon in 1787, his wife, Ann Focari, died, leaving and son and daughter to be looked after in England.
Arndell was one of ten surgeons on the First Fleet. On 18 July 1787, Elizabeth Barber, a convict accused Arndell of trying to seduce her. But as she was drunk, and Lieutenant Ralph Clark reported that she abused everyone in authority at the same time, her accusation was given little sympathy. Clark praised Arndell's devotion to duty - though he noted that Arndell was tipsy at Rio, but felt it a thoroughly deserved indulgence.
The record of Arndell's 32 years in the colony began on 23 January 1788, when he ran a knife through his hand while out scouting to the south of the planned settlement at Sydney Cove. Clark bound it up, and it did not stop Arndell from making other excusions around the harbour. In June 1789 he accompanied Captain Tench on an expedition from Rose Hill to the Nepean. By this time he was in charge of the hospital and Parramatta, and his medical reports were used as evidence in court.
In 1791, Arndell began farming on a block next to the hospital, and in July 1792 sought permission to retire on a pension and become a settler. Phillip granted him 60 acres on the south side of the creek leading to Parramatta, even though officers were not entitled to such concessions. Arndell settled there with Elizabeth Burleigh, a convict; their son, William, less than 2 years of age, had died in March 1792.
Copyright unknown

[ Virtual Australia | The World We Live In | The Things We Do ]
[ The Natural World | The People We Are | Australia Through Time ]
[ Online Australia | Fun for Kids | For Webmasters and School Projects ]
---
---
Problems/Broken Links can be reported to
virtualaustralia@yahoo.com
The owner and author of this website is not of indigenous descent - and therefore will not provide information on the indigenous viewpoint. This is best left up to the authors of Indigenous websites. I would not want to offend a wonderful culture by writing something incorrect.
All text and graphics unless otherwise stated are ©1998-2000 Kim Holden, Virtual Australia.
If you believe any of the graphics or text to be copyright to you, please email me to discuss the matter.
All rights reserved. No part of this site may be reproduced in any form without the express permission of the owner of
Virtual Australia or the copyright owners of the included information.
Any offenders will be prosecuted to the full extent of the law.