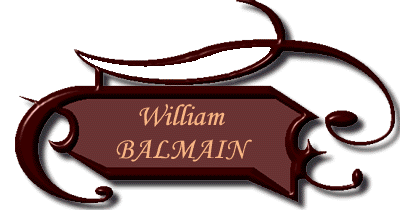 was born in Perthshire, Scotland in February 1762, the son of Jane Henderson and Alexander Balmain. He joined the nacy in 1780 as surgeon's mate, and sailed on the Alexander
as an assistant surgeon to the colony. In October 1791 he was appointed senior surgeon at Norfolk Island; he supplemented his duties there by growing crops and serving as a magistrate.
When Chief Surgeon White was granted leave of absence to return to England, Balmain was appointed acting chief surgeon in his place, and took up the position in August 1795. When White did not return, Balmain was appointed official chief surgeon in August 1796. He was critical of White, with whom he had fought a duel in August 1788, and made persistent and necessary requests for more assistants and medical supplies. After enquiries were made into the ill-treatment of convicts on the Britannia in 1797, Balmain made valuable suggestions as to how conditions might be improved, which the authorities ignored.
Early in 1796 Balmain quarrelled with Captain John Macarthur, after Balmain had given legal advice to John Baughan, whose house had suffered badly at the hands of a group of soldiers in Macarthur's company. A duel was only just avoided.
In 1794 he was granted 100 acres at the Field of Mars, called Balmain Farm, and another 100 acres at Hunters Hill, to which was added a town lot in Sydney in 1795. In July 1798, he received another grant at the Field of Mars, and an additional 105 acres at Hunters Hill. The following year he was granted more land at the Field of Mars by Governor Hunter, 220 acres at Hunters Hill, and 267.5 acres at Mulgrave Place. He used the land mainly to graze cattle, and furthered his interests by trading in liquor. In September 1800 he admitted to having 1359 gallons of spirits.
By 1797 he was living with Margaret Dawson, and a daughter Jane, was born in that year.
Praised by Hunter as 'an active and spirited magistrate', Balmain was appointed naval officer in October 1800, served on the gaol and orphan committees, sat on an enquiry into the Irish conspiracy (in December 1800), and was commander of the Sydney Loyal Association.
In August 1801, having been granted a long-awaited leave of absence, Balmain returned to England to settle his private affairs, leaving his NSW interests in the care of D'Arcy Wentworth. In England he approached Lord Fitzwilliam on Wentworth's behalf and submitted proposals to Sir Joseph Banks for the civil and criminal reform of the colony.
In a letter to Banks in 1802, he claimed that the settlement was badly governed, not so much by the Governor, as by the soldiers and subalterns he was forced to employ. He described the colony as a flock without a shephard as the officers did nothing but wait for their time to expire, and the convicts and settlers lost heart. He advocated the proper selection of dedicated colonial commandments of districts to solve the problem.
Giving up his plan to return to NSW, Balmain sought permission to retire on a pension, then in August 1803, was appointed surgeon to the forces. Before he could take up his post, he died on 17 November 1803, leaving most of his estate to his convict wife, Margaret Dawson, who was in England and who had borned him three children.
Copyright unknown



[ Virtual Australia | The World We Live In | The Things We Do ]
[ The Natural World | The People We Are | Australia Through Time ]
[ Online Australia | Fun for Kids | For Webmasters and School Projects ]
---
---
Problems/Broken Links can be reported to
virtualaustralia@yahoo.com
The owner and author of this website is not of indigenous descent - and therefore will not provide information on the indigenous viewpoint. This is best left up to the authors of Indigenous websites. I would not want to offend a wonderful culture by writing something incorrect.
All text and graphics unless otherwise stated are ©1998-2000 Kim Holden, Virtual Australia.
If you believe any of the graphics or text to be copyright to you, please email me to discuss the matter.
All rights reserved. No part of this site may be reproduced in any form without the express permission of the owner of
Virtual Australia or the copyright owners of the included information.
Any offenders will be prosecuted to the full extent of the law.